ATV Insurance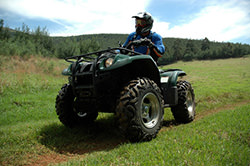 Protect yourself, your investment and your loved ones with an ATV insurance policy and have piece of mind at work and at play on your all-terrain vehicle.
A typical ATV insurance policy will help you to protect recover your assets in case of loss due to vandalism, theft, collision, and accidents caused by uninsured or underinsured motorists. In the event of any of these cases (provided your policy carries these standard coverages) you will be able to work with your insurance company to recover losses stemming from property damage and bodily injury or medical expenses.
ATV Insurance Coverages
Standard coverage(s) on ATV insurance policies include bodily injury and property damage liability coverage, comprehensive, collision, medical payments and uninsured/underinsured motorist coverage. Additional endorsements may include custom parts and equipment coverage, roadside assistance, and towing.
Liability Coverage
Liability coverage protects you in case of an at-fault accident which results in damages to property and medical expenses to others. It is important to have adequate liability coverage in order to insure that your assets are protected.
Comprehensive Coverage
Comprehensive coverage pays for damage done to your vehicle that is not a result of an accident. Some examples of this might include theft, vandalism, damage from animals, or natural disasters including hail, flood, fire, or severe storms.
Collision Coverage
Collision coverage protects you in case of damage to your ATV as a result of an accident; whether you hit another vehicle, another vehicle hits you, you hit a tree or other stationary objects. Due to the rough nature of All Terrain Vehicles, your policy might not cover cosmetic defects include scratches, dents and other non-structural damages; severe damages however will be covered less the cost of your deductible.
Uninsured/Underinsured Motorist
This coverage protects you incase of injury to you or your passengers and property damage expenses incurred as a result of a non-at-fault accident where the other party is entirely un-insured or under-insured. This coverage may pay for medical expenses, property damages, lawyer fees and lost wages (up to your selected limits).
Medical Payments
This coverage helps to cover any immediate expenses as a result of an at-fault or non-at fault accident. This coverage may pay for doctors, hospital visits, trauma centers, massage therapists, physical rehabilitation and chiropractors.
Towing Coverage
This coverage will help to recoup lost assets in the result of an accident where your ATV needs to be towed or transported to a new location.
Need ATV Insurance?
Get a Free ATV Insurance Quote Online or Call us at (608) 831-3168 to have one of our agents quote your policy over the phone.