Personal Liability Umbrella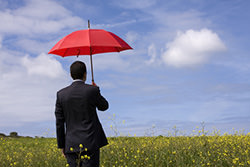 Personal liability umbrella, also known as excess liability coverage, is an insurance policy that protects your assets & potential/future income above and beyond the normal limits on your primary policies. It shelters the policyholder when all other policies liability coverage is exhausted or fails to protect. It sits over the policyholder's general insurance policies and kicks in if any of the liability policy max-outs or exhausts.
Umbrella insurance can also cover claims that may not be included in primary insurance policies. These may include the following:
Libel: Libel is known as defamation by pictures, written words, or any other form used by someone other than spoken words. 
Invasion of Privacy: Assaulting anyone's privacy may result in lawsuit against you. By assaulting, it means physical attack or using someone's personal information illegally.
False Arrest: It means plaintiff has been arrested or held in custody without court orders, or without a possible cause.
Umbrella Insurance Policy protects you in case you are under any of the above situations. Above are not the only situations where the umbrella insurance policy shelters you, there are several other situations as well like "Slander".
How much does it cost and how much coverage does a Personal Liability Umbrella offer?
Minimum coverage may be obtained for as alittle as a couple of hundred dollars per year and may offer between $1 Million to $10 Million in coverage.
Remember the following:
You must harmonize your primary insurance policies with umbrella insurance policy since the umbrella policy comes into effect when all other underlying policies are exhausted.
Remember to gather important information about existing insurance policies for verification purpose, for example, contact numbers and liability coverage provided by the insurance company.
Its preferable to select a trust-worthy insurance company (likely your current auto and home insurer) for the umbrella insurance policy. Gather advise from industry professionals and take references from friends and family who have previous experience.
Reasons to get a Personal Liability Umbrella:
It shelters you when other insurance policy (auto and home) liability coverages are exhausted. In case of an accident caused by you, settlement can range in thousands or millions of dollars. Your automobile insurance policy may exhaust before the final settlement. In such cases, the umbrella insurance policy defends damages imposed on you.
It also protects you when normal insurance policies fail to protect you, for example, in case of a critical litigation against you like defamation, false arrest, breaching tort laws etc.