Snowmobile Insurance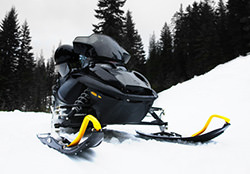 Insuring your snowmobile is important. Without snowmobile insurance, an accident or theft could result in a total loss that could involve major out-of-pocket expenses. Like your automobile policy, comprehensive, collision, liability and uninsured motorist coverages are available. If nothing else, it will provide you peace of mind when you or your family members are driving your snowmobile.
Why snowmobile insurance is required?
Usually snowmobile insurance is legally required. Much like auto insurance, it is mandatory subject to some exceptions. Mostly snowmobiles are not covered under usual homeowner's, renters, or automobile insurance policies.  Therefore, if you are worried about your property or personal liability while driving a snowmobile, you should get snowmobile insurance. If you are travelling on a rented snowmobile, you should consider purchasing rental insurance if it is offered.
What coverage is provided by snowmobile insurance?
The snowmobile insurance coverage should include:
Liability coverage in the event that you are legally liable for bodily injury or property damage caused by you.
Collision coverage in the event that your snowmobile bumps into something.
Medical expenses (for yourself and others) if you are at fault in an accident .
Protection against fire, theft, and vandalism.
What factors will determine the cost of snowmobile insurance?
The insurance providers will take into consideration several factors while offering you a rate of premium. Some of the factors are explained below.
Your driving history: You are likely to be offered lower rates of insurance premium if you have a clean driving record. Clean driving record means that you have not encountered any major accidents in the past and you were not found guilty of violation of traffic rules.
Your age: Teenagers usually have to pay higher premiums because the insurance providers consider them a high-risk. Young people are usually careless while driving, therefore they face more accidents.
Your profession: This may seem odd to some of you, but its true that insurance companies also take into consideration your profession while determining insurance rates. Engineers and doctors are usually offered lower rates because according to statistics they are not involved in too many accidents.
Value of your snowmobile: Snowmobiles of high value and high performance are charged higher rates of insurance premiums.
Safety courses: Insurance companies usually offer discounts to customers who have taken driving safety courses
Customer loyalty: You can get loyalty discounts while renewing your policy, if you have been with the same insurance provider for an extended period of time
Level of deductibles: If you set your level of deductibles high, you will be charged lower insurance rates and vice versa; however your out-of-pocket expenses in case of an accident will increase accordingly.
Need Snowmobile Insurance?
Get a Free Snowmobile Insurance Quote Online or Call us at (608) 831-3168 to have one of our agents quote your policy over the phone.