Motorcycle Insurance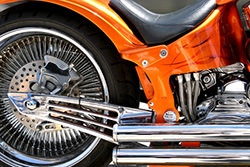 A motorcycle insurance policy is essential for anyone who owns or is currently leasing a cycle and can protect you against physical damage and liability that may arise from traffic accidents.
Just like auto insurance or any other vehicle insurance, you should be very careful while purchasing a motorcycle insurance policy. Consideration should be given to different factors that can affect the policy including, ways to reduce insurance premiums, and insurance plans available in your case.
Types of coverage:
Liability Coverage: It does not cover you or your motorcycle; instead it covers property damage and physical injury caused by you.
Collision Coverage: It covers damages to your motorcycle in case of motorcycle's collision with an object or another vehicle. With this type of coverage, the insurance company pays for damages less your deductible. Normally, collision insurance covers the motorcycle's book value before the accident.
Comprehensive Coverage: Comprehensive coverage protects you in the case of theft, fire or vandalism to your motorcycle. With this type of coverage, the insurance company pays you for damages minus your deductible, and covers the motorcycle's book value only. This insurance package may also cover damages by natural incidents like floods, earthquakes, hurricanes etc.
Factors that may affect the rates:
Your driving record is the key factor that can influence the rate. If you have a good driving history with very few or no accidents, you are likely to get lower rates.
Age also affects the rates. Insurance companies normally charge higher rates from youngsters as they are likely to drive faster or with less care. This rate can be reduced provided a good driving history.
Your residential area also affects the rates. If you live in a high accident/high crime area or the area where there are parking issues, insurance companies will charge higher rates.
Rate also depends on the condition of your motorcycle. If you want to insure a new motorbike, it will cost you more as compared to an old motorbike.
Rate also depends on how much you ride. If you normally use motorbike in your daily life, for example, for personal use or for office use, it may cost you more to insure your bike.
Things to consider when purchasing a policy:
Don't just purchase a policy with blind eyes, seek a professional insurance agent to help you find the right one. A good insurance agent will help you find a policy with optimal coverage and rated through multiple companies to get you a good price.
Need Motorcycle Insurance?
Get a Free Motorcycle Insurance Quote Online or Call us at (608) 831-3168 to have one of our agents quote your policy over the phone.