Boat Insurance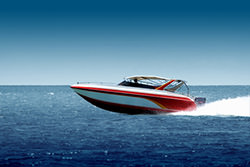 You want your boat covered with a good insurance policy just like you do for your car, your health and your home. By protecting your boat with a good insurance policy your worries and concerns about its protection while you're out relaxing will sail away.
Boats with small motors may be included under your home insurance program however you should check your policy to be sure. If you have a larger or faster motor boat, you will need to have a separate boat-owners insurance policy.
Limitations of a home-owners policy only:
Plans may not include perils such as as sinking, collision, capsizing, stranding etc.
Damage caused by wind or hail is not covered unless the boat was in fully closed building at the time of loss
Coverage for off premises theft is not available.
A boat insurance policy will provide you broader coverage and better liability protection as compared to the home policy. The boat insurance will provide you coverage against:
Theft, loss and damage to the boat and equipment attached with it
Damage  caused by your boat to someone else's property
Injury if someone else is injured by your boat
Injuries to the occupants of the boat
Liability coverage for  passengers which includes guests and relatives
Many factors will be considered to determine the price of boat insurance. Generally the type and value of the boat, navigational territory and boating experience is considered.
Type of boat: The description, age, condition and particularly the value of boat will affect the price of policy.
Navigational territory: The territory in which the boat will be used will also affect the price. Prices will be higher if the boat is to be used in territories which are considered to be of high risk.
Boating experience: The insurance company will want to know boating experience of the principal operators and will be willing to charge less if they are well experienced. Youthful operators and operators with bad driving record are considered to be a factor that increases the exposure of risk.
Liability coverage of boat insurance policies varies to a great extent. It can be as low as $15,000 or as high as $300,000 or even more. You will have a deductible, raising the deductible will lower insurance premium, however will also raise your out-of-pocket expense. Additional boat insurance coverage might be needed for boat trailers and other accessories of high value.
You should inquire about discounts before buying a boat insurance policy. Discounts may be applied for:
Running boat on diesel instead of gas
Having approved fire extinguishers
Having an on board radio
Having multiple policies with same insurance provider
Having taken a water safety course
Need Boat Insurance?
Get a Free Boat Insurance Quote Online or Call us at (608) 831-3168 to have one of our agents quote your policy over the phone.