Home Insurance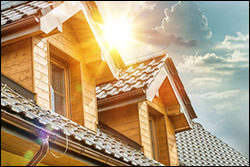 Home Insurance is essential for anyone who owns a home. Having a home insurance policy will cover you in the event that something catastrophic happens to your home. This type of policy not only protects the home but also the contents within it should losses occur due to fire, theft, storm damage or with liability coverage if someone is hurt on your property.
A typical homeowner's insurance policy will not cover you if the result of your losses is due to earthquake or flood but separate policies can be put in place to make sure that you are fully covered. If you have high-valued property such as jewelry, furs, musical instruments, silverware, rare coins, stamps, fine art, guns, golf equipment and other items, it is recommended to have these scheduled items added to your policy. Most home policies are tailored to your needs with additional coverage added. Examples might be for water backup, identity fraud, perils during construction, increase in other structures, home business and forgery.
Home Insurance Quotes, Companies and Costs
We offer Free Home Insurance Quotes and work to insure that you receive a competitive price by running your information through and receiving a comparison from several different trusted companies.
Home insurance companies we represent include Acuity, Auto Owners, General Casualty / QBE, and Wisconsin Mutal. Your home insurance rates will vary depending on the size of your home, age, number of improvements done and the contents within it. The most accurate estimate can be provided by offering a number details about your building which may include when the roof and siding was last replaced, if the kitchen or bathrooms have been recently remodeled or if the flooring was recently replaced.
As with anything, the cost of home insurance can vary depending on the building you are covering and the benefits of the insurance policy. It is important to work with an insurance agent that understands these factors and can work to make sure that the policy you are purchasing fully covers you in the event of a catastrophe and that there will not be any problems receiving adequate payment should a claim occur. By working with a trusted insurance agent who represents honest insurance companies, you can rest well that you and your belongings are safe.
Our agency is licensed to sell home insurance in Wisconsin, Iowa and Illinois. Our main office is located near Madison WI where you can visit anytime during normal business hours. You can receive a free home insurance quote by completing our online home insurance quote form or pdf (which can be mailed, faxed or hand-delivered) or simply calling us directly at (608) 831-3168 and have your quote completed over the phone by our knowledgeable agents.
About Home Insurance Policies
There are a number of terms and details about Home Insurance Policies that you might not know unless you are a licensed insurance agent. These terms include home insurance premiums, declaration pages, claims, adjusters, coverage and umbrellas amount others. To make things easy and to help you understand your home insurance policy we provide the following information to answer the question as to what those terms are and how they apply to your policy.
A home insurance premium is the price or cost that you pay each month. The premium varies depending on the building you are insuring, the coverage that is being applied and the company who is providing your insurance policy. Saving or reducing the monthly premium may not always be the best option if it includes reducing the amount of coverage and that coverage then becomes inadequate. It is important to always work directly with your insurance agent before making changes to your policy or switching companies. Your insurance agent should always have your best interest in mind.
A declaration page clarifies and outlines details about your policy. You can find information about your coverage, the value of the building and the contents you are insuring and other pertinent information that might reflect what your home insurance policy covers.
A home insurance adjuster is a company representative that will inspect damage to your property and assess its initial value if there is a claim. The adjuster will take into consideration a number of factors when making their assessments and work to make sure that in the event of a claim that you are properly compensated.
Coverage on insurance policies is a term that defines what mishaps you are covered for. Most home insurance policies will not cover earthquake or flood damage however will cover you in the event of hail damage or a fire. It is important to understand what you are and are not covered for. If there are certain coverages you require, you should work directly with your insurance agent to make sure you are covered in all events.
A home insurance umbrella is a type of personal liability coverage that covers you when the liability coverage on your current policy has been exhausted. This type of coverage can protect you in the event that there is an accident on your property and the underlying limits have been reached. The details and exact specifics of what your umbrella policy will and will not cover should be discussed directly with your insurance agent or company who has issued the policy.
Home Insurance Quote
If you need home insurance and are located in Wisconsin, Illinois, or Iowa please feel free to call (608) 831-3168 or request a quote online. If you are nearby in Madison or nearby suburbs including Black Earth, Cottage Grove, Cross Plains, DeForest, Fitchburg, McFarland, Middleton, Monona, Oregon, Stoughton, Sun Prairie, Verona, Waunakee and Windsor we welcome you to visit our agency in person where we can answer all of your insurance related questions and get you setup with a new policy.